Promoting Senior Health:
Healthcare Support Center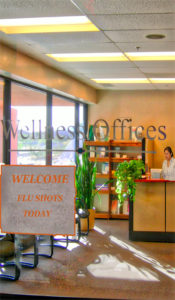 The Healthcare Support Center is designed to complement medical services offered in southern Arizona for residents of Academy Village/Altura. It focuses on health education, health screening, and targeted interventions for disease prevention, wellness promotion, and frailty.
The Center is the heart of the continuity of care, aging in place program.  The Center does not provide primary care; users must have a physician or other licensed healthcare practitioner. The Center's greatest value arises when a resident is ill, hurt or suffering a chronic condition. Here "wellness" truly comes to the fore, as the nurse provides guidance for optimum care, faster recovery, or stabilization.
The Health Support Center is staffed by Candi Tucker, RN, MA, and Donna Oliver, CNA. The Center is open every morning, Monday through Friday.
Personalized Services
Monitoring medical conditions and frailty (e.g.,blood pressure)
Follow-up with medical providers
Assistance with interpreting laboratory and diagnostic results
Medication reconciliation
Long-term review of health status
Assistance with selection of physicians and specialists
Administration of allergy and B-12 shots
Assistance with transitioning from hospital care to home
Guidance with long term care insurance, medical power of attorney, and living wills
Access to mobile laboratory for blood draws on-site
Wound care
Consultations with family
Guidance on pain management and pre-and-post-surgical care(in consultation with primary care physician or surgeon)
Guidance on physical fitness and recommended immunizations
Guidance on vision and hearing, diet and nutrition, and stress reduction
Library of research and information on health and well-being
A subscription/donation form for Academy Village/Altura residents may be found here: Subscription Form.